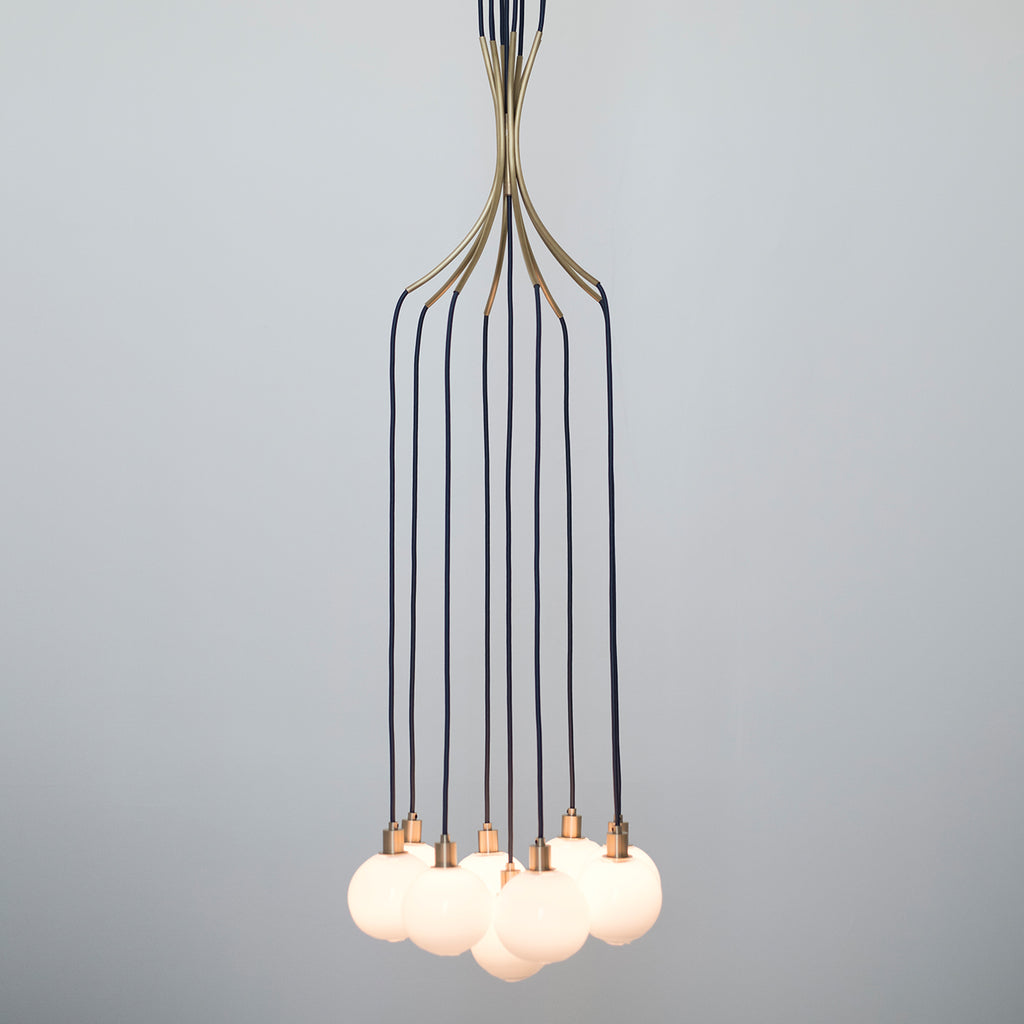 sklo
SKLO drape skirt 9 chandelier in white
$5,800.00
The drape skirt 9 chandelier consists of 9 individual pendants gathered and supported by a central brass "skirt" structure. Each pendant features a 4 1/2″ (11cm) diameter sphere of handblown Czech glass suspended on a fabric-wrapped electrical cord. The cords pass through the tubes of the skirt. The spherical glass diffusers feature the signature SkLO double-dipped, fire-polished mouths which show where the glass is broken from the blower's pipe, making each unique.
UL LISTED SUITABLE FOR DAMP LOCATIONS (US & CANADA)
Sockets: 120V E12 (candelabra) 7W Max (G9 sockets available on request).
Canopy: Brass canopy with exposed fasteners. Recessed steel electrical box required for installation.
Specify overall drop length.
Minimum overall drop length is 36″ (90cm). Lengths over 96″ (245cm) available at additional cost.
Specify fabric-wrapped electrical cord color: black, blue, gold, or gray.
Bulbs included.
Standard metal finishes: dark oxidized / brushed brass (other finishes available on request).
Five glass colors available (including clear).
Four fabric-wrapped electrical cord colors available.
All glass dimensions are approximate – handblown glass dimensions vary by nature and intent.

Handblown in the Czech Republic.
 *This listing reflects our current inventory at Gallery Lulo. Orders of other colors take 1-6 weeks depending on availability, prices and shipping may vary. To order give us a call at the gallery (707) 433-7533 or email info@gallerylulo.com.